SHAKE IT UP!! Vibration Therapy
WHOLE BODY VIBRATION THERAPY!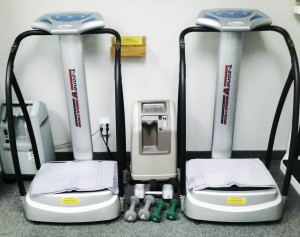 Dr. Williams has training in Whole Body Vibration (WBV) Therapy! This form of therapy was started by the Russian Space program in an effort to strengthen the bones of astronauts before they went into space for long periods of time. Vibrating at different speeds causes specific effects on the body…from relaxation to neuro-muscular re-education, and it does so very quickly. We have noticed dramatic changes in rotational range of motion in just a few minutes!
Here are some of the Whole Body Vibration benefits:
Relieves joint and back pain

Tones and strengthens muscles

Increases bone density

Increases human growth hormone – HGH keeps you young!

Decreases stress

Decreases cellulite (WBV is used before liposuction to break up cellulite)

Tightens skin

Lowers Blood pressure

Increases metabolism

Increases blood circulation (widens capillaries)

Increases mobility and flexibility

Improves coordination (Golfer's best friend)

Improves balance

Stimulates lymphatic system (which is involved in removing toxins)
Besides these benefits, whole body vibration has also been found to help:
Prevent and treat osteoporosis and osteoarthritis
Weight loss
Recovery from injury and surgery
We will be happy to show you the machines and have you try one* as an adjunct to your next office visit at no charge…..SHAKE IT UP!!
*Subject to approval based on your medical needs. May not be medically recommended for those with certain medical conditions.